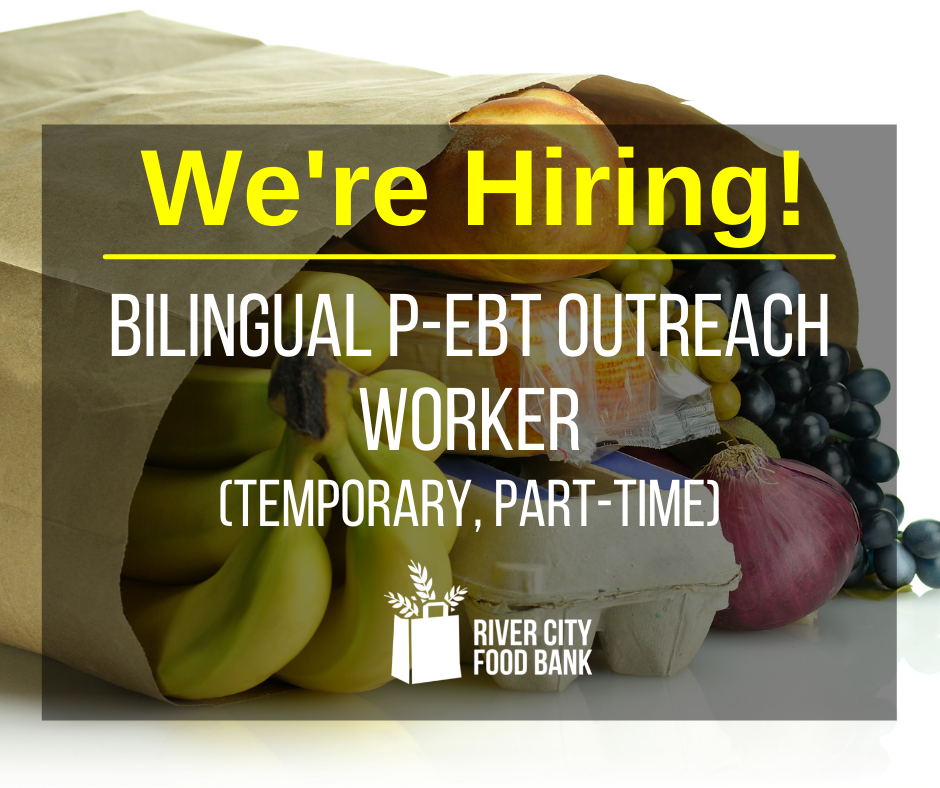 Bi-Lingual P-EBT Outreach Worker
(Temporary, Part-time 10-15 hours/week – September 2021 – January 2022)
Primary Goal and Duty: Responsible for helping River City Food Bank's (RCFB) CalFresh Outreach Department to increase awareness of and provide information about Pandemic EBT 2.0 to the Russian speaking and Farsi speaking families in Sacramento County.
Understand and implement the mission of River City Food Bank (RCFB) and the goals established by RCFB's Board of Directors, as directed by the Executive Director under the supervision of the CalFresh Outreach Director.
Responsibilities include:
Outreach Activities
Work collaboratively with CalFresh Outreach Director to plan and conduct P-EBT2.0 outreach activities
Outreach to families at River City Food Bank's Arden Arcade food distribution site informing them of the P-EBT program and how it works.
Talk to families via work- provided cell phone about the Program
Attend community events and fairs to promote and educate on P-EBT 2.0 program
Outreach Tracking
Maintain records of outreach contacts
Document challenges and successes that families have with the program
Distribute and track P-EBT 2.0 outreach materials
Other Responsibilities
Translate P-EBT materials into Russian or Farsi
Assist with publicizing our services
Assist CalFresh Director as needed
Participate in trainings, state meetings and webinars
Participate in weekly department meetings/check- ins
Other duties as assigned
Requirements:
Must be fluent in English and one of the following languages: Russian or Farsi / Dari (verbal and written)
Bi-Lingual and Bi-Cultural
Must provide acceptable documents regarding identity and employment authorization for Form I-9.
Must have a reliable personal vehicle for travel to outreach sites/events
Respect, courtesy and professionalism while dealing with various perspectives, personalities, backgrounds and beliefs
Dependable with strong work ethic
Ability to work in loud, fast-paced environment with frequent interruptions
Timely, accurate and clear communications and reporting
Professional demeanor when representing RCFB
Available to work weekdays and Saturdays
Maintain confidentiality regarding all client information and exercise sound judgement
Commitment to RCFB's mission and core values
Qualifications
Organized and detail-oriented
Excellent written, oral and interpersonal skills
Energetic, good with people and a team-player
Ability to work independently
Experience with Publisher, Canva or similar software preferred
Ability to approach customers to discuss P-EBT
Compensation and Benefits
DOE: Starting Wage of $16/hour
Saturday – Sunday; 10-15 hours per week
As a temporary role, this position will not be eligible to participate in the organization's benefit programs except those required by law.
Temporary position – September 2021 through approximately January 15, 2022 with the possibility of further employment.
To Apply please send resume and cover letter as to why you would be a good candidate to Amy Dierlam at by August 31st or until filled.  
For more information: www.rivercityfoodbank.org
River City Food Bank is an equal opportunity employer