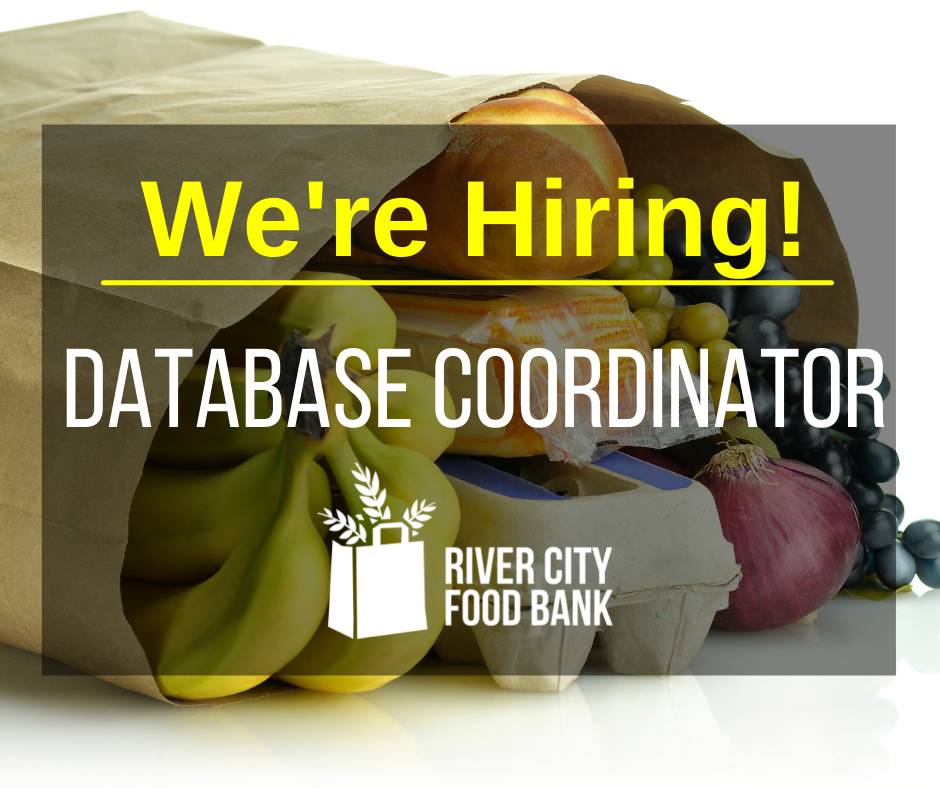 Database Coordinator Job Description (Part Time) long-term
Primary Goal and Duty
Responsible for coordinating data entry, gift acknowledgement and donor database management system for River City Food Bank (RCFB). Understands and implements the mission of RCFB and the goals established by RCFB's Board of Directors, as directed by the Executive Director under the supervision of the Director of Fund Development.
Database Coordination
Enter all donations (e.g., online gifts, checks, cash, automate clearing house (ACH)) in donor database
Maintain accurate donor records in donor database
Provide weekly batch reports for accounting reconciliation
Create SALSA reports to support Development efforts to include funds raised, mailing lists for printed appeals and email lists for Constant Contact, etc.
Donor Acknowledgement
Process and acknowledge all gifts in a timely manner
Other Duties
Retrieve RCFB voicemail and mail
Read and distribute messages from RCFB's general email account
Assist with additional administrative duties, as needed
Requirements
 One-two years of office experience
 Previous data entry experience (knowledge of Donor Management Systems preferred)
Excellent organizational and interpersonal skills; ability to work with people of diverse social and cultural backgrounds, including colleagues within the organization and the population of people served
Consistent application of confidentiality, discretion, diplomacy, and tact
Ability to meet deadlines and see projects through to completion
Highly organized, detail-oriented, accurate, and precise
Positive attitude and a sense of humor
Self-starter who can work independently in a deadline-driven environment to see projects through to completion
Intermediate skills in Microsoft Office to include Outlook, Word and Excel
Commitment to and interest in River City Food Bank's mission and core values of dignity, compassion, respect, health and nutrition.
High School diploma (college coursework or degree preferred)
Compensation & Benefits
Salary Range is $15-$17 per hour. Part time, non-exempt position of 20 hours per week (Monday – Thursday). River City Food Bank offers part-time Paid Time Off (PTO) and paid Holidays.
To Apply
Please submit your cover letter and resume to Erika Fatula at .
About River City Food Bank
River City Food Bank's (RCFB) mission is to alleviate hunger in Sacramento County by providing healthy, emergency food and other assistance, offering referrals and promoting self-sufficiency through a variety of support services.
RCFB helps people avoid a crisis and work toward self-reliance by providing a short-term food supply when they are unable to meet basic living expenses. Our programs serve low-income families, children, seniors, individuals who are medically fragile, refugees/asylum-seekers, individuals experiencing homelessness, the working poor and individuals with disabilities. RCFB serves all people experiencing food insecurity regardless of race, ethnicity, gender, sexual orientation, age and background in Sacramento County (no zip code restrictions). In 2020, RCFB served more than 2.7 million pounds of food to 230,976 people facing hunger, an overall 30% increase in service because of the COVID-19 pandemic.
For more information, visit www.rivercityfoodbank.org.
River City Food Bank is an equal opportunity employer.