Programs
Many of the people who seek our help can usually pay their bills until something unexpected happens. Car expenses. Medical bills. Higher gas prices. Reduced hours at work. River City Food Bank helps the working poor as well as those on fixed incomes or facing serious illnesses.
CalFresh Outreach Department
CalFresh assistance is currently available during our distribution hours by appointment (drop in is also welcome) at both Midtown and Arden-Arcade locations:
Midtown: Tuesday through Thursday from 10:30am- 1:30pm
Arden-Arcade: Every Friday from 10:30am- 12:30pm
Interested in applying or have questions? Call us at 916-233-4075 or click below to complete a referral form and email it back to us at 
 Updates to CalFresh Benefits
CalFresh Outreach Services
En Español
 Updates to CalFresh Benefits
 Updates to CalFresh Benefits

Emergency Allotments Continue: CalFresh recipients should have received an extra allotment on their EBT cards on December 12. Everyone on CalFresh will get a minimum extra deposit of $95. The next allotment will be January 16.
Increase in CalFresh Benefits: With the American Rescue Plan Act signed, the increase of 15% in CalFresh continues through September 30th. The minimum is $19 and the maximum is $234 for one person.
Extra Income will not Impact CalFresh Qualification: Stimulus checks in the amount of $1400 and the extra $300 per week for unemployment will not count as additional income for those who are applying for or receiving CalFresh benefits.
College Student Exemptions Expanded: Students are encouraged to apply for CalFresh if they are eligible for state or federally financed work study or if they have an Expected Family Contribution (EFC) of $0, as determined by the California Student Aid Commission (CSAC).
Pandemic EBT 2.0: P-EBT 2.0 cards will be loaded with funds to purchase food at the grocery stores, farmers markets and online. Click here to learn more.
CalFresh Outreach Services
En Español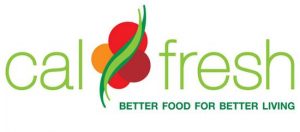 Stay Connected
Sign up for email newsletter.