About Us
As Sacramento's oldest, continuously-serving food bank, our mission is to alleviate hunger in Sacramento County by providing healthy emergency food and other assistance, offering referrals and promoting self-sufficiency through a variety of programs. From seniors to children, from the homeless to the working poor, we assist all struggling individuals and families in Sacramento County.
Our small but mighty team
River City Food Bank is a grass-roots community effort, but these professionals make sure that our program is run with integrity and efficiency.
Eileen Thomas, Executive Director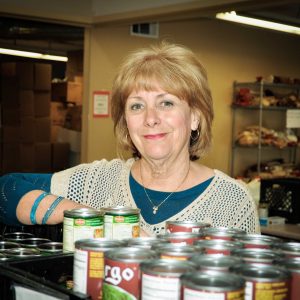 Eileen, a fourth generation Sacramento resident, has deep roots in the Sacramento community. After serving as the admissions director for a local Catholic girls' high school, Eileen joined River City Food Bank as its executive director in 2003. Eileen's passion for our client population saturates our entire organization. During Eileen's tenure, the River City Food Bank has managed to grow with the need and expand its programs.
Contact Eileen at
---
Paula Jenkins, Operations Administrator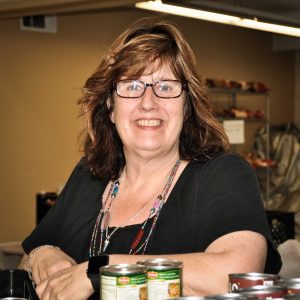 Paula started with River City Food Bank in 2010 shortly after the fire destroyed our location on 27th Street.  She started as an Administrative Assistant and has moved into the position of our Operations Administrator, providing support to the operations of our Midtown location. In addition, she oversees the financial and personnel responsibilities of both locations of our food bank. She is frequently referred to as our "Computer Whisperer" and is the go-to person for troubleshooting equipment issues, building maintenance and ordering office supplies. Paula believes that everyone brings something unique to the table and values helping others. She believes in the core values that are practiced by River City Food Bank staff and volunteers…Dignity, Understanding, Mutual Respect, Health and the ability to receive nutritious food as a basic human need… Because no one should be hungry.
Contact Paula at
---
Jena Robinson, Program and Operations Manager
Jena Robinson came to River City Food Bank through the Lutheran Episcopal Volunteer Network (LEVN). Since graduating from Auburn University in 2009, she has worked for numerous non-profits fulfilling her passion to help marginalized people. Her passion for food justice started as a little seed in an urban garden in Nashville, TN and has grown to managing food programs, volunteers, food drives and more at River City Food Bank.
Contact Jena at
---
Denver Symister, Program Coordinator
Denver Symister is the Program and Operations Assistant at River City Food Bank. He has been with the organization since 2015, and is committed to helping RCFB become more successful in its endeavors to provide more compassionate and dignified assistance to people in need. Originally from the United Kingdom, he now resides in Sacramento, California.
Contact Denver at
---
Fred Gorsira, Program Coordinator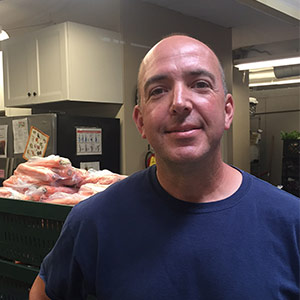 Fred found his way to River City Food Bank after years of living in the Bay Area and running his own business in the legal field. His passion is to help those less fortunate, and he feels privileged to work alongside staff who give so much to making a difference in so many lives. "It feels good to be of service to our community." Outside of work, his focus is to raise his daughter with the same sense of compassion and giving back.
---
Ray Sandoval, Driver and Inventory Assistant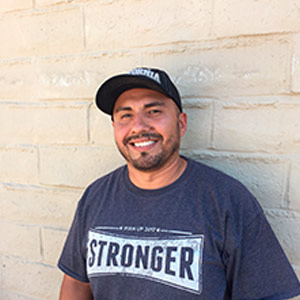 Ray began volunteering with River City Food Bank in 2016. He returned to RCFB after enjoying his time volunteering and was employed as a full-time driver. Ray stays busy attending school and being active at Real Life Church. He loves the Sacramento community and helping the people who live here. He hopes to start his own organization in the future.
---
Thomas Pearson, Operations Coordinator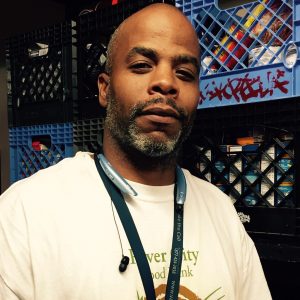 Thomas Pearson is originally from Paterson, New Jersey and has worked for non-profits for over 20 years. He is passionate about helping people in any and all ways possible. Thomas also enjoys golfing, writing and working out. He spends his spare time with family and friends. One day he wishes to establish two separate businesses, one profit and one non-profit. In the meantime, RCFB is a great company to work with.
---
Donnie Salgado, Truck Driver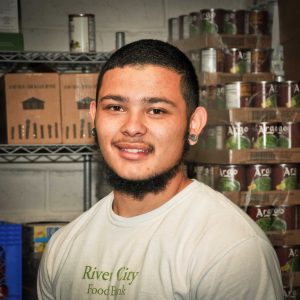 Donnie Salgado is originally from Salinas, CA. He came to RCFB from Goodwill, a partner of River City Food Bank. Donnie enjoys the physical aspects of his position as well as driving. In his spare time Donnie likes to work out and play sports.
---
Amy Dierlam, CalFresh Outreach Program Director
Amy has strong roots in social service, a background that helps her to be especially sensitive and helpful to people needing CalFresh assistance. Before coming to Sacramento, she was a social worker for a foster care agency in Butte County, and then transitioned to work for the Episcopal Diocese of Northern California, coordinating youth and young adult ministry. Amy volunteered at the River City Food Bank intake desk for a year before accepting the CalFresh outreach assistant position in the summer of 2011.
Contact Amy at
---
Maritza Alcantara, CalFresh Outreach Assistant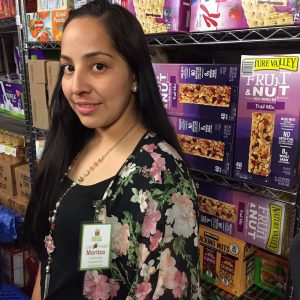 Maritza started as a volunteer with us. We noticed her strong desire to help others and her knowledge of CalFresh and working with Sacramento Department of Human Assistance. She has a background in food preparation and management, which has also been helpful here at the food bank. She brings vast experience working with the Latino population. Her bilingual and bicultural skills enhance our ability to outreach to this population.
Contact Maritza at | Habla Español
---
Luis Armenta, Interim CalFresh Outreach Assistant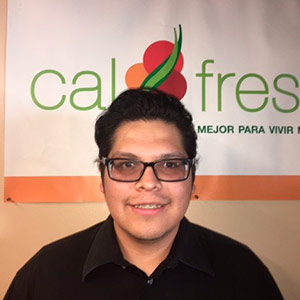 Luis has joined our CalFresh team for the remainder of 2018. A recent graduate from the University of California, Davis with a BS in Neurobiology, Physiology and Behavior and BS in Psychology, Luis has always held a need to aid the underserved. He interned with us the winter and spring quarters and shared a deep desire and talent for helping all those in need, but especially those from the Latino community. Luis is currently aiding an investigation on the prevalence of food insecurity and dietary tendencies for the populations within the UC Davis Student-Run Clinics.
Contact Luis at | Habla Español